In the 'Local tastes best' series, we proudly introduce you to our wonderful local suppliers. We love their delicious, fair products that help reduce humankind's environmental footprint. As such, we have recently begun serving ThijsTea at our events, a type of iced tea made with tea and fruit or vegetables that would otherwise have gone to waste.
Thijs Afink (34) is a chef and the mastermind behind the summery beverage of the year: ThijsTea. Its refreshing combination of iced tea and salvaged fruits has generated a lot of support and fame for Afink. op. 'Stopping food waste is a hot topic these days; you could even call it the latest hype. That has certainly helped make ThijsTea a success. But I'm not doing it for the sake of profit; my battle against food waste is genuine. It has become my life's mission.'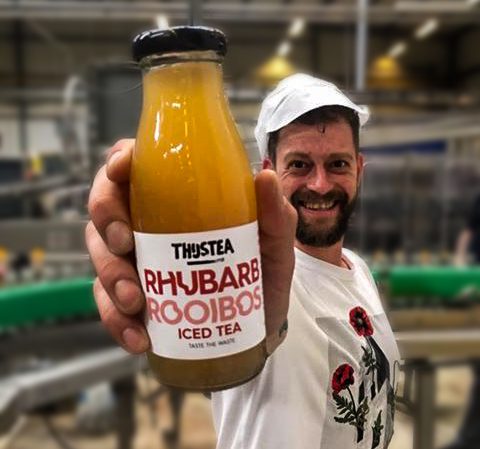 No Waste champion Thijs: 'I will keep going until there is no more food waste.'
How it all began
Thijs brewed his first crate of ThijsTea in June 2015 when his good friend Thomas Marcin, co-owner of De Zaak in Utrecht, requested it. 'He wanted to be able to serve a fresh beverage in big jugs, and I had just saved a crate of overripe strawberries from being dumped in the trash. I came across the idea of combining tea with strawberries in a recipe book, and the combination was such a hit that several other crates soon followed.'
Successful crowdfunding
In June 2016, Thijs started brewing his tea at an industrial levell by then, 7,000 bottles a month were being sold in 100 hospitality establishments throughout Utrecht, Amsterdam, Rotterdam and The Hague. Thijs was joined by a marketer, Rod, and ThijsTea was turned into an official registered company.
A year later, they closed out their crowdfunding campaign with 200% funding, amounting to 100,000 euros. They spent the money on financing new ThijsTea products, marketing efforts, hiring full-time brand ambassadors, storage space for their stock of ThijsTea, and production of canned ThijsTea. 'Our canned products allow us to reach a much wider audience, because you are not allowed to sell beverages in glass containers at festivals and stations.'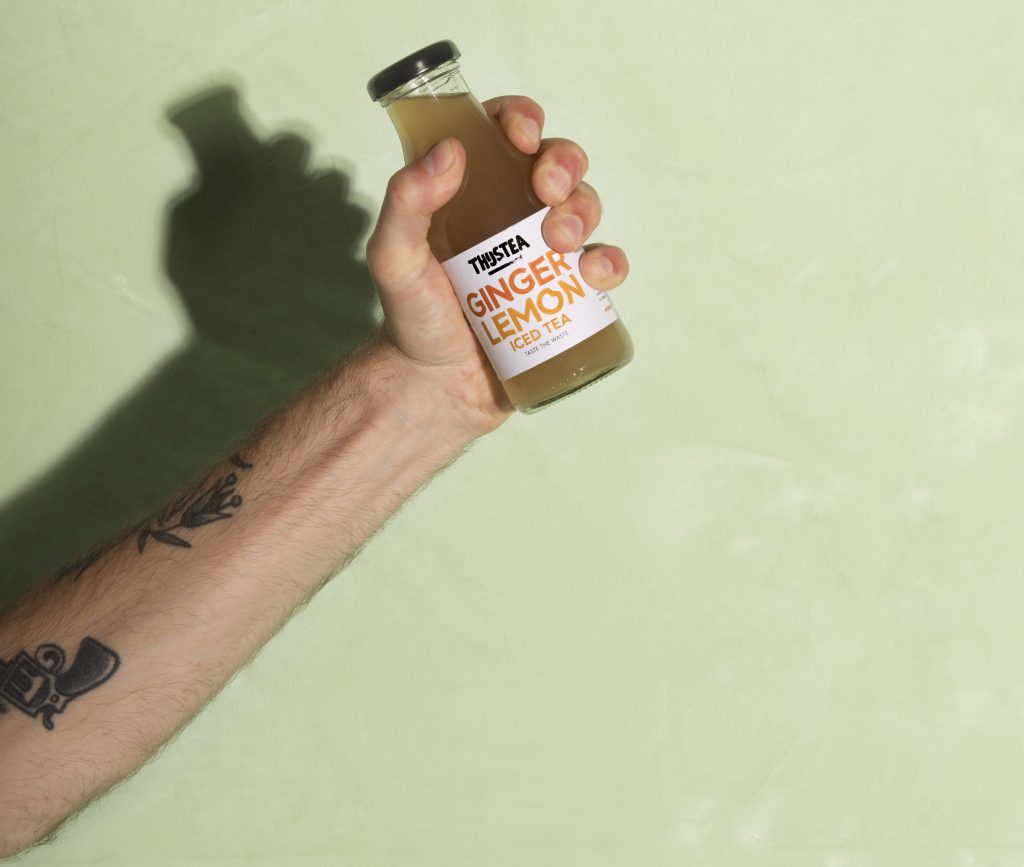 Only wasted fruit
Thijs initially only needed a few 100 kilos of apples to brew his tea, but those numbers are quickly rising to around 100,000. 'I used to call growers in the area to see whether they had any fruit left over that would go to waste otherwise. Now, they call me, which is great! I have vowed to never use fruits or vegetables that would not have gone to waste otherwise. When there are no more bulging, warped, or ugly apples to be found, I'll just have to come up with a new flavour instead.'
A new product is launching soon, ThijsTea Green made with the bits of cucumber that are left over after a sushi manufacturer cuts nice straight strips. 'I get my lemons from a limoncello manufacturer who only uses the peels, and my rhubarb from a factory where the fatter stalks are discarded and used to be destroyed. I pay regular prices for all of the fruit and veg, because I think that's only fair – after all, it is just as good as the rest – and because it costs companies money to keep and store their leftovers for me instead of throwing them away. Destruction is always cheaper. A strange concept, isn't it?'
Seasons and current events
There is no way to predict trends in food waste, so Thijs keeps a close eye on current events. 'There is currently a pear surplus in Russia and a blackcurrant surplus in Denmark. As such, I will be launching a new Black Currant variety soon.' He also takes into account the seasons. 'The apple season has now ended, but rhubarb is popping up all over. ThijsTea can be stored for up to 18 months so we are able to get ahead a bit, and as weird as it feels to say this, with the current amount of food waste, I am unfortunately able to guarantee a large supply of ThijsTea most of the time!'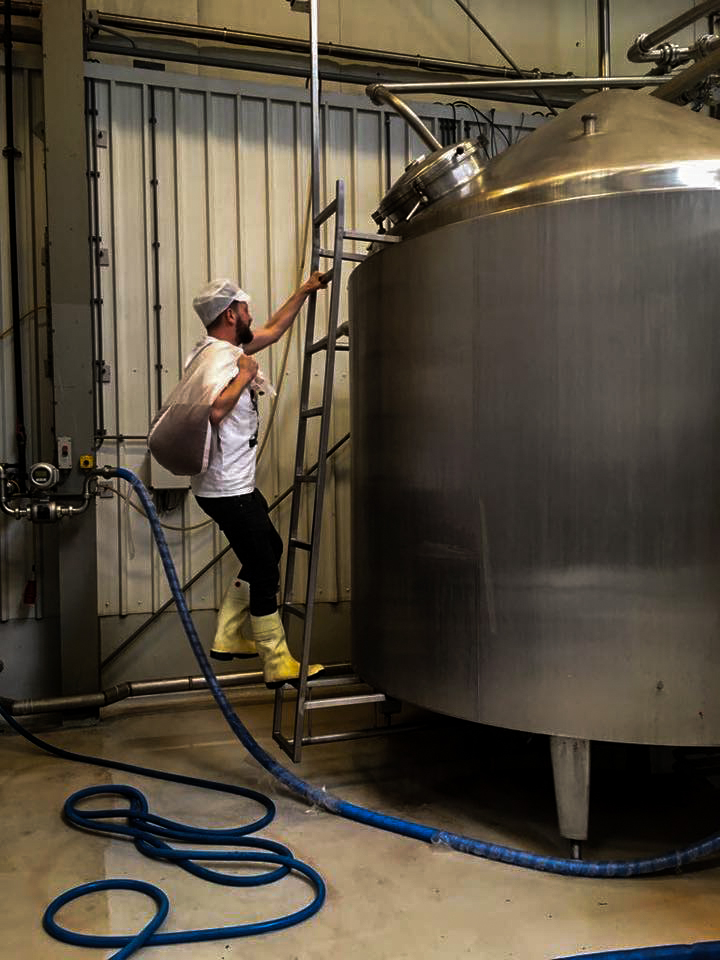 Chef Thijs:
'Whenever we come up with a new flavour, I am present at the factory for the tasting process.'
Tea is versatile
Growers and food manufacturers are not the only ones causing Thijs' phone to ring off the hook; tea suppliers also contact him and send him samples all the time. 'I recently tasted Marva tea for the first time – delicious! I myself am a big fan of Moringa. Moringa tea is entirely ThijsTea-proof, because once the leaves are picked, they grow right back; a never ending story without any food waste!'
Thijs loves tea. 'It's healthy, there are many different flavours, and it's a very versatile product!' Because he does not always use the same variety of fruit, every batch of ThuisTea tastes slightly different. 'Of course I do want all of it to taste good, so I make sure to be there to taste during every production round. At that point, you can no longer change the blend of fruits, but you can still vary the amount of and intensity of the tea you add.'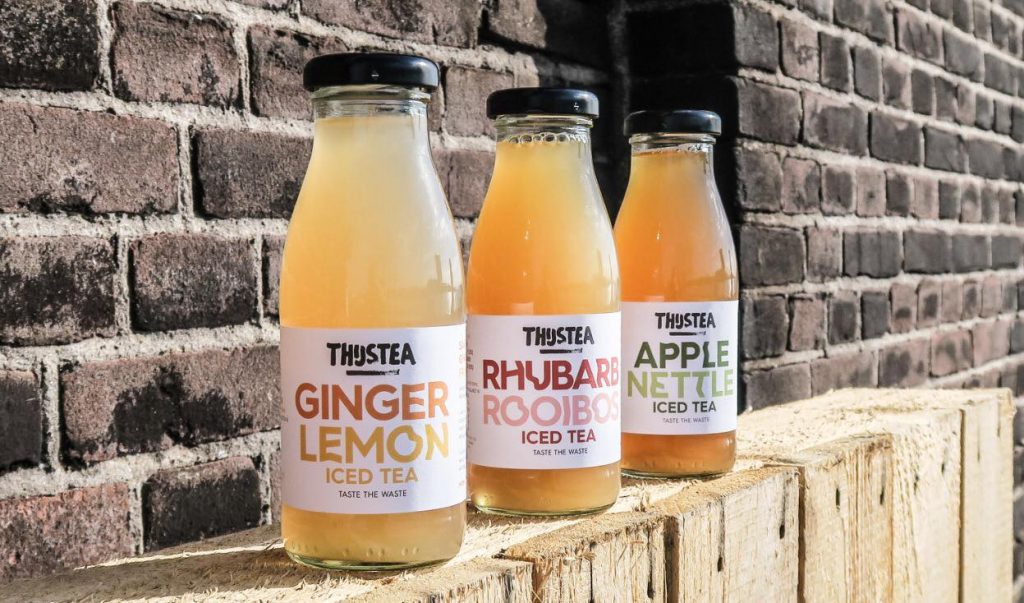 Fresh flavours
In the past two years, our No Waste champion has brewed ThijsTea out of blackberries, strawberries, rhubarb, red fruit, plums, grapes, oranges, redcurrants, kiwis, and beets. His latest flavour blends are rhubarb/rooibos, ginger/lemon and apple/nettle, packaged in bottles with a hip new label. 'I used to make the labels myself, using a template to draw the logo and a typewriter to note the flavour.' Thijs grins: 'But of course, that is a thing of the past now that we produce well over 23,000 bottles a month.'
Future endeavours
The enterprising chef certainly isn't resting on his laurels. Apart from developing new flavours, he is also working on a cookbook too help fight food waste even more, and he's planning a number of new products. 'Our Thijsjes, ice lollies made with fruit that would otherwise have gone to waste, are going to be the next big thing this summer!'
Stay up to date on all of the latest ThijsTea news via their website and Facebook!