The creation of innovating, surprising, and delicious catering concepts is very important to DeFabrique. Opening a bottle of soft drink? 'There's nothing exciting about that these days!' argued operational manager Melvin de Lange. And so, he came up with a new concept: our lemonade bar 3.0!
Nice and refreshing
'The guests have to be surprised; a bar has to be exciting,' Melvin explains. 'Last year, we introduced tart flavours to our three glass lemonade taps filled with sweet, tart, and detox juices respectively. Now, it is time for the next step: a bar where people can use syrups from Utrecht-based startup De Roze Bunker ('the Pink Bunker') to create their own soft drink.'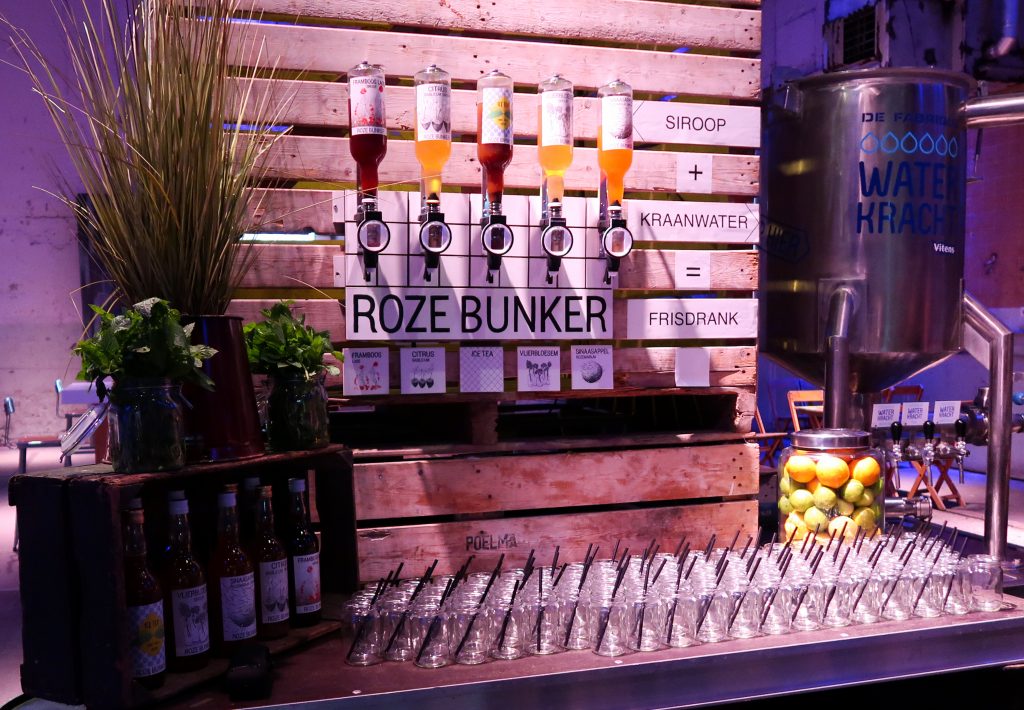 Create your own flavour explosion
Here's how it works – guests can compile their own flavour explosion in three steps:
Choose a syrup

Add flat or sparkling water from a

Hydropower Plant

Choose your own topping: mint, lemon, lime, orange, or apple.
Another great advantage is that the Roze Bunker syrups are handmade from fresh (sometimes wasted) fruit, herbs, and ingredients that feature in beer, such as malt and barley.
Melvin: 'A lemonade bar is not a regular feature at a conference or fair, making it that much more appealing for organisers who want to do things differently. With our lemonade bar 3.0, we can show clients that it can be very easy for them to surprise their guests with delicious drinks. Moreover, the do-it-yourself element provides the kind of interaction that is much wanted at events like these. In short, it's a win-win!'